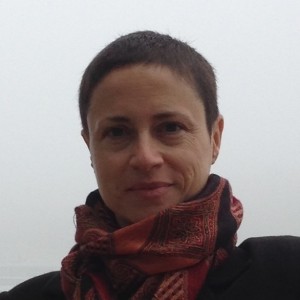 JESSICA T. PISANO is Associate Professor and Chair of the Politics Department at the New School for Social Research and Eugene Lang College in New York City. She is an associate of the Davis Center for Russian and Eurasian Studies at Harvard University.
Jessica Pisano's research and teaching focuses on contemporary and twentieth century politics of Eastern Europe and Eurasia. She is interested in the experiences of ordinary people who may live far from capital cities. Her work is interdisciplinary, drawing on archival sources as well as a variety of immersion-based methods, including participant-observation research. Much of her research examines borderland societies, asking what borderlands and peripheries can teach about broader political and economic transformation.
Pisano teaches courses on Eastern European and Eurasian politics, illiberal regimes, borders and walls in politics, property rights and the enclosure of public goods, political ethnography, and research design. Her Ph.D. students explore a variety of questions in Eastern Europe and Eurasia and beyond. Several are working on fieldwork-based dissertation projects along the outer borders of the European Union. Pisano welcomes interest from prospective graduate students in comparative politics and, as an affiliated faculty member of the Committee on Historical Studies at the New School, mid- to late twentieth century Eastern European and Soviet history and politics.
A product of public primary and secondary education in the United States, Pisano completed an A.B. in History and Literature from Harvard College and an M.A. and Ph.D. in Political Science from Yale University. She joined the New School for Social Research Politics Department in 2012. Prior to arriving at to the New School, she was Associate Professor and Research Chair in the Politics of Property in the École d'études politiques, a francophone academic unit at the bilingual Université d'Ottawa.
Pisano's research has been supported by the National Science Foundation, the National Council for Eurasian and East European Research, the Social Sciences and Humanities Research Council of Canada, the Social Science Research Council, and the International Research and Exchanges Board. She has held fellowships at the Harvard University Davis Center for Russian and Eurasian Studies, the Harvard Ukrainian Institute, and the Kennan Institute for Advanced Russian Studies, and has been a fellow at the Institute for Advanced Study at Central European University and an invited professor at the Ecole des Hautes Etudes en Sciences Sociales in Paris. In 2017, Pisano received a university-wide award for distinguished teaching at The New School.
Her current research analyses the political economy of participation in mass spectacles and the social bases of regime legitimacy in Russia and Ukraine. Her manuscript Political Theater analyses the political economy of popular participation in what some see as imitations of democratic institutions, from apparently staged electoral contests to elite-driven social movements.
The essay, "From Iron Curtain to Golden Curtain: Remaking Identity in the European Union Borderlands," East European Politics and Societies (May 2009), which won the Hungarian Studies Association Mark Pittaway Biennial Article Prize, is part of her second current project, a social history of property on a single street in Eastern Europe between 1938 and 2014.
Her widely-adopted essay on methodology and the status of facts, "How to Tell an Axe Murderer: An Essay on Ethnography, Truth, and Lies," was published in Edward Schatz (ed.), Political Ethnography: What Immersion Contributes to the Study of Power (University of Chicago Press, 2009), which won the American Political Science Association Giovanni Sartori Award.
Her first book focused on the local politics of land privatization policies. The Post-Soviet Potemkin Village: Politics and Property Rights in the Black Earth (Cambridge University Press, 2008), winner of the Harvard University Davis Center Prize in Political and Social Studies, drew on on her long-term field research in villages along the Russia-Ukraine border. The Post-Soviet Potemkin Village showed how privatization policy in Russia and Ukraine stripped former collective farm members of their few remaining rights, ushering in a new era of monopoly control over land resources and widespread dispossession of rural populations.
Pisano speaks English, French, Russian, Ukrainian, and Hungarian and uses these languages in her research. She reads several other European languages.
She lives in the Hudson Valley with her husband and the youngest of four children.