Allina-Pisano, Jessica. 2008. The Post-Soviet Potemkin Village: Politics and Property Rights in the Black Earth. Cambridge:  Cambridge University Press.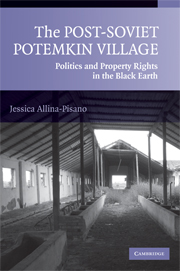 The Post-Soviet Potemkin Village received the 2009 Harvard University Davis Center Book Prize in Political and Social Studies for best book published on Russia, Eurasia, or Eastern Europe in anthropology, political science, sociology, or geography.
For more information about the book see here, and for more on the Davis Center Book Prize see here.